Namib Enviro Tours
- English version -
Discover Namibias hidden treasures away from large travel groups, safely guiden by your personal guide. You will enjoy the professional and well maintained equipment, and my deep inside knowledge of the country. If you are not for mass tourism, but enjoy quality and have a sense for the ecology, then this is for you!
I will accompany you and your spouse, family or small group of friends to experience the individually taylored dream vacation in Namibia. In addition, you can book Self-Drive Off-Road tours with me. These will take you through the central Namib desert from Swakopmund.
Namib Enviro Tours stands not only for satisfied customers, but supports an ecologically sustainable form of tourism. The interests of the environment and the local population must be in harmony with our own. My motto: "We take nothing but photos – we leave nothing but footprints."
Be inspired - I look forward to answer your enquiry!
About me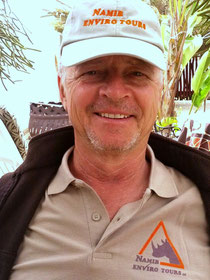 My name is Raini Becker, I was born 1954 in Swakopmund and am a third generation native of Namibia. In 1963 my parents established one of the first game and guest lodges in the country. Since 1987 I work as tourguide, and have gained varied experiemce with several international tour operators. Among others I also worked in Europe and the Middle East. I know how important your vacation is!

1994 I founded my own business, called Namib Enviro Tours, so that I could realise my conception of tours in Namibia. I speak 3 local languages, and have been certified by the "Namibia Academy for Tourism and Hospitality" (NATH) in the subjects geology, geography, history, astronomy, botany and archaology. You will notice that I enjoy my job.

I offer tailor-made camping-safaris, tours with stays in hotels or lodges or a mixture of both. I travel in all of Namibia, on request tours to the Okavango-Delta in Botswana or Victoria Falls in Simbabwe are possible. I know the most beautiful and the most interesting places in the country. I will be pleased to make recommendations to suit your specific interests. You will receive my personal attention from the first contact until the end of your trip.
Guided Namibia tours, individually planned
Please consider what you expect from your vacation. Do you want to be entertained, or just quiet and relaxation? Or do you want to take in impressions, adventure, and gain experience? The latter is my speciality. It is of great importance that my clients select the right tour for their personal expectations. My policy is to discuss my clients' desires, and design a package that fits these as best as possible. In cases where I sense that the client wants something that I cannot offer, I will let them know in advance, rather that risk disappointment.
Camping: This is what I offer: Iglu-type tents where you can stand. Each guest gets a roll of bedding, consisting of matress, sleeping bag and pillow with fresh linen, and a towel. Camping beds are available to those who prefer to sleep under the clear sky "million star hotel". But I cannot take both along because of space limitations, so you must chose in the beginning. Further I take chairs and a table. I will prepare the meals in my field kitchen, but help from the guests is expected in general site activities. Upon request we can limit our lodging to official campsites with facilities, but I know from experience that the remote and lonely sites are really preferred and appreciated. In some remote sites there is no water and no toilet, and I carry enough water for basic hygiene. The mobile toilet is established out of sight for privacy. In any case I plan the route so that we can take up fresh water at least every second day. You will understand that this camplife requires quite a bit of equipment to be comfortable. Therefore I must ask the guests to bring limited personal baggage in flexible bags rather that suitcases, for easier stowage.
Accommodation in lodges: Other than camping in tents, I also offer tours where we stay in lodges, hotels or guestfarms. These have to be booked in advance, and all reservations must be confirmed. Prices can vary a lot, (around $200/person/night) therefore you need to tell me your preference; economy or top of the range! For the months of July-September some accommodation is booked out a year ahead, which makes it very important to start planning early enough.
Combination Camping/Lodges: In some locations, there is a choice between a campsite, where we can pitch our tents, or bungalows for self-catering or full service lodges. Here I need to know your preference, camping as often as possible, or more in lodges, or lowest price, when there is a choice?
Are you tempted? Then please take a look at my tour examples or let's start planning.
Tour examples
I shall be pleased to work out a personalised trip exclusively for your group. On the other hand, how do you know what to select, when you are not familiar with Namibia? That is why I have prepared typical tours. Please remember that I can customize each of these to fit your schedule and your preferences.
Why choose me?
At Namib Enviro Tours you get your money's worth.
I avoid all unnecessary costs when planning your holiday: Agents, assistants or colorful brochures. In the true sense of the word, I do all the work singlehandedly, and you can depend on that. Of course my full-service package includes airport pick-up.
Namib Enviro Tours takes responsibility for planning your personal dream holiday.
Are you fed-up with browsing innumerable "package deals"? Rightfully so! You deserve personal consultation and as a result a plan made to suit your personal budget and desires. You can trust my experience in organizing and planning everything necessary. This way, your holiday begins before departure.
Namib Enviro Tours has the most satisfied customers.
I am pleased that my customers recommend my tours without any reservation. It is especially nice to know that many customers come again.
In choosing Namib Enviro Tours, you don't save at the wrong end.
My tours and safaris do not leave any wish unanswered. Your valuable holidays should fit your needs, and not the opposite. Do not be misled by the numerous low cost operators of standardized offerings, where quantity if more important than quality. I recognize the persons, not the booking number!
Namib Enviro Tours stands for sustainable tourism.
Being a local operator with a conscience, I believe that the next generations should be able to experience the incredible beauty of my home country with their own eyes. Together we carry a special responsibility to conduct our travels with utmost respect towards the nature and the people of Namibia.
Contact me
If you are interested, please contact me and I will answer as soon as I can. Please consider that I could be on tour, in which case my response would be delayed for that period. Upon my return I will definitely answer your request personally.
Phone: +264 64 400280
Text/SMS: +264 81 2562252
E-mail: raini@namibenvirotours.com
facebook.com/namibiasafari
Postal address:
Namib Enviro Tours CC
P.O. Box 674
Swakopmund
Namibia
Domicile:
Raini Becker
Werft Street 12
Swakopmund
Namibia